John Jackson Miller – Lost Tribe of the Sith series
John Jackson Miller – Lost Tribe of the Sith series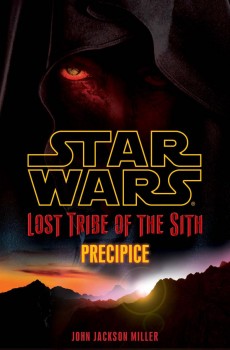 Product Description
Don't miss STAR WARS: LOST TRIBE OF THE SITH: PRECIPICE a FREE original e-book short story, the first in a series that tell the untold story of the FATE OF THE JEDI's forgotten Sith castaways, their battle to survive, and their quest to re-conquer the galaxy! PRECIPICE includes an exclusive excerpt from STAR WARS: FATE OF THE JEDI: OMEN (Del Rey Hardcover, available June 23rd) and offers a unique look into the backstory of events that will begin to unfold in OMEN. SURVIVAL-NOT SURRENDER For the ruthless Sith Order, failure is not an option. It is an offense punishable by death-and a fate to which Commander Yaru Korsin will not succumb. But on a crucial run to deliver troops and precious crystals to a combat hotspot in the Sith's war against the Republic, Korsin and the crew of the mining ship Omen are ambushed by a Jedi starfighter. And when the Sith craft crash-lands, torn and crippled, on a desolate alien planet, the hard-bitten captain finds himself at odds with desperate survivors on the brink of mutiny-and his own vengeful half brother, who's bent on seizing command. No matter the cost, Korsin vows that it will not be his blood and bones left behind on this unknown world. For the way of the Sith leaves little room for compromise-and none for mercy.
From the Author
The _Fate of the Jedi_ novels introduce readers to a hidden Sith society, living apart from the rest of the galaxy for five thousand years. But how did they come to be? _Lost Tribe of the Sith_ answers that question. Spanning millennia, this series of short stories introduces the original unlikely castaways — and shows how their society was shaped.
The initial castaways begin far removed from the Sith Lords we see in the movies: the starship Omen is, in fact, a mining vessel, carrying specialists. Force-using adherents to Sith beliefs — but still slaves to another: middle managers in the cause of evil. But on Kesh, their planetary prison, all their dark ambitions emerge. Everyone wants to rule the world — and tries!
How do the children of Omen survive — much less thrive for five thousand years? The Lost Tribe of the Sith short stories provide the answer. "Sith society" may be a contradiction in terms, but it's a fun one to explore!
Download from NitroFlare
http://nitroflare.com/view/B620819841129FF/Lost_Tribe_of_the_Sith.rar
Download from KatFile
https://katfile.com/z6c9ggx0b1kb/Lost_Tribe_of_the_Sith.rar
Download from UploadRar
https://uploadrar.com/6ebljvqxypmt/Lost_Tribe_of_the_Sith.rar
Books list:
Lost Tribe of the Sith 01 – Precipice – John Jackson Miller.epub (372.63 KB)
Lost Tribe of the Sith 02 – Skyborn – John Jackson Miller.epub (285.86 KB)
Lost Tribe of the Sith 03 – Paragon – John Jackson Miller.epub (228.74 KB)
Lost Tribe of the Sith 04 – Savior – John Jackson Miller.epub (241.94 KB)
Lost Tribe of the Sith 05 – Purgatory – John Jackson Miller.epub (254.45 KB)
Lost Tribe of the Sith 06 – Sentinel – John Jackson Miller.epub (170.33 KB)
About The Author