Jason Arnopp – Ghoster
Jason Arnopp – Ghoster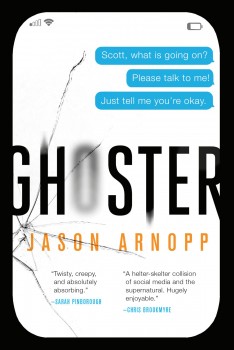 <p>Jason Arnopp – author of acclaimed cult hit The Last Days of Jack Sparks – returns with a razor-sharp thriller for a social-media obsessed world. Prepare to never look at your phone the same way again . . .<p><p>Kate Collins has been ghosted.<p>
<p>She was supposed to be moving in with her new boyfriend Scott, but all she finds after relocating to Brighton is an empty apartment. Scott has vanished. His possessions have all disappeared.<p>
<p>Except for his mobile phone.<p>
<p>Kate knows she shouldn't hack into Scott's phone. She shouldn't look at his Tinder, his calls, his social media. But she can't quite help herself.<p>
<p>That's when the trouble starts. Strange, whispering phone calls from numbers she doesn't recognize. Scratch marks on the walls that she can't explain. And the growing feeling that she's being watched.<p>
<p>Kate refuses to leave the apartment – she's not going anywhere until she's discovered what happened to Scott….
Download from NitroFlare
http://nitroflare.com/view/973FB581CB61444/Ghoster.zip
Books list:
Ghoster.epub (915.31 KB)
About The Author
You might be interested in