J. D. Robb – In Death series
J. D. Robb – In Death series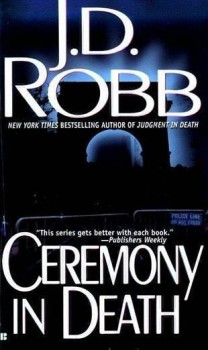 In hardcover for the first time, here is the novel that started it all-the first book in J. D. Robb's number-one New York Times-bestselling In Death series, featuring New York City homicide detective Lieutenant Eve Dallas and Roarke. It is the year 2058, and technology now completely rules the world. But New York City Detective Eve Dallas knows that the irresistible impulses of the human heart are still ruled by just one thing-passion. When a senator's daughter is killed, the secret life of prostitution she'd been leading is revealed. The high-profile case takes Lieutenant Eve Dallas into the rarefied circles of Washing-ton politics and society. Further complicating matters is Eve's growing attraction to Roarke, who is one of the wealthiest and most influential men on the planet, devilishly handsome . . . and the leading suspect in the investigation.
Review
'a perfect balance of suspense, futuristic police procedural and steamy romance…truly fine entertainment…sure to leave you hungering for more…' Publisher's Weekly
About the Author
Nora Roberts is the number-one New York Times-bestselling author of more than one hundred novels, including seventeen books in the number-one New York Times-bestselling In Death series, written under the pen name J. D. Robb. There are more than two hundred million copies of her books in print.
Eve Dallas is a New York police lieutenant hunting for a ruthless killer. In over ten years on the force, she's seen it all – and knows that her survival depends on her instincts. And she's going against every warning telling her not to get involved with Roarke, an Irish billionaire – and a suspect in Eve's murder investigation. But passion and seduction have rules of their own, and it's up to Eve to take a chance in the arms of a man she knows nothing about – except the addictive hunger of needing his touch.
In a world of danger and deception, she walks the line – between seductive passion and scandalous murder…
Download from NitroFlare
http://nitroflare.com/view/3A66ED6A6D39E50/J__D__Robb_-_In_Death_1-35.rar
Download from KatFile
https://katfile.com/08fdi6lp1ai8/J__D__Robb_-_In_Death_1-35.rar
Download from UploadRar
https://uploadrar.com/e0kmo75p9287/J__D__Robb_-_In_Death_1-35.rar
Books list:
J. D. Robb – In Death 01 – Naked in Death.epub (487.01 KB)
J. D. Robb – In Death 02 – Glory in Death.epub (377.48 KB)
J. D. Robb – In Death 03 – Immortal in Death.epub (430.62 KB)
J. D. Robb – In Death 04 – Rapture in Death.epub (391.5 KB)
J. D. Robb – In Death 05 – Ceremony in Death.epub (399 KB)
J. D. Robb – In Death 06 – Vengeance in Death.epub (550.07 KB)
J. D. Robb – In Death 07 – Holiday in Death.epub (482.88 KB)
J. D. Robb – In Death 08 – Conspiracy in Death.epub (541.67 KB)
J. D. Robb – In Death 09 – Loyalty in Death.epub (515.56 KB)
J. D. Robb – In Death 10 – Witness in Death.epub (517.63 KB)
J. D. Robb – In Death 11 – Judgment in Death.epub (331.7 KB)
J. D. Robb – In Death 12 – Betrayal in Death.epub (317.96 KB)
J. D. Robb – In Death 12.50 – Interlude in Death.epub (237.4 KB)
J. D. Robb – In Death 13 – Seduction in Death.epub (318.94 KB)
J. D. Robb – In Death 14 – Reunion in Death.epub (324.93 KB)
J. D. Robb – In Death 15 – Purity in Death.epub (326.44 KB)
J. D. Robb – In Death 16 – Portrait in Death.epub (336.33 KB)
J. D. Robb – In Death 17 – Imitation in Death.epub (527.4 KB)
J. D. Robb – In Death 17.50 – Big Jack.epub (367.95 KB)
J. D. Robb – In Death 18 – Divided in Death.epub (522.02 KB)
J. D. Robb – In Death 19 – Visions in Death.epub (482.57 KB)
J. D. Robb – In Death 20 – Survivor in Death.epub (326.43 KB)
J. D. Robb – In Death 21 – Origin in Death.epub (540.85 KB)
J. D. Robb – In Death 22 – Memory in Death.epub (490.81 KB)
J. D. Robb – In Death 22.50 – Haunted in Death.epub (287.3 KB)
J. D. Robb – In Death 23 – Born in Death.epub (418.38 KB)
J. D. Robb – In Death 24 – Innocent in Death.epub (538.29 KB)
J. D. Robb – In Death 24.50 – Eternity in Death.epub (283.58 KB)
J. D. Robb – In Death 25 – Creation in Death.epub (487.94 KB)
J. D. Robb – In Death 26 – Strangers in Death.epub (521.15 KB)
J. D. Robb – In Death 27 – Salvation in Death.epub (350.65 KB)
J. D. Robb – In Death 27.50 – Ritual in Death.epub (266.11 KB)
J. D. Robb – In Death 28 – Promises in Death.epub (335.3 KB)
J. D. Robb – In Death 29 – Kindred in Death.epub (454.97 KB)
J. D. Robb – In Death 29.50 – Missing in Death.epub (341.29 KB)
J. D. Robb – In Death 30 – Fantasy in Death.epub (470.96 KB)
J. D. Robb – In Death 31 – Indulgence in Death.epub (497.48 KB)
J. D. Robb – In Death 31.50 – Possession in Death.epub (260.82 KB)
J. D. Robb – In Death 32 – Treachery in Death.epub (327.38 KB)
J. D. Robb – In Death 33 – New York to Dallas.epub (406.49 KB)
J. D. Robb – In Death 33.50 – Chaos in Death.epub (308.25 KB)
J. D. Robb – In Death 34 – Celebrity in Death.epub (358.94 KB)
J. D. Robb – In Death 35 – Delusion in Death.epub (329.01 KB)
J. D. Robb – In Death 7.50 – Midnight in Death.epub (235.32 KB)
About The Author