Alexie Aaron collection
Alexie Aaron collection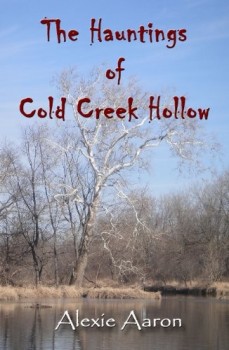 Bought By Maraya21
kickass.so / 1337x.to / h33t.to / thepiratebay.se
Little Mia Cooper's ability to see the dead made her an outcast in her hometown. Several years later, she has finally managed to blend in, but her hard-won peace is threatened by the arrival of a bumbling team of paranormal investigators. Mia is drawn in reluctantly as an advisor on what, at first, seems to be a fairly straightforward case, only to discover that the Hollow has much more in store for her. An ancient evil is rising in Cold Creek Hollow. What begins as a ghost hunt will become a fight for survival.
About the Author
After traveling the world, Alexie Aaron, a Midwestern native, returned to her roots where she's been haunting for years. She now lives in a village outside of Chicago with her husband and family. Her popular Haunted Series was born from her memories of fleeting shapes rushing around doorways, an heirloom chair that rocked itself, cold feelings of mysterious dread, and warm feelings from the traces of loved ones long gone. Alexie also writes the Cin Fin-Lathen Mysteries. These cozies set in England and south Florida combine action and intrigue with a liberal dose of humor.
Download from NitroFlare
http://nitroflare.com/view/AB48D1676B3C5F9/Haunted_Series_%231-31_by_Alexie_Aaron.rar
Download from KatFile
https://katfile.com/9tf188xk7uci/Haunted_Series_%231-31_by_Alexie_Aaron.rar
Download from UploadRar
https://uploadrar.com/7k760u9parqm/Haunted_Series_%231-31_by_Alexie_Aaron.rar
Books list:
01 The Hauntings of Cold Creek Hollow.epub (376.03 KB)
02 Ghostly Attachments.epub (387.16 KB)
03 Sand Trap.epub (452.51 KB)
03.1 Eternal Maze – Alexie Aaron.epub (159.59 KB)
03.2 Homecoming – Alexie Aaron.epub (148.82 KB)
04 Darker Than Dark.epub (366.56 KB)
05 The Garden.epub (388.11 KB)
06 puzzle.epub (321.46 KB)
07 Old Bones.epub (416.02 KB)
08 Things That Go Bump in the Night.epub (321.82 KB)
09 Something Old.epub (453.08 KB)
09.1 Checking Out – Alexie Aaron.epub (171.7 KB)
09.2 Ice and Steel – Alexie Aaron.epub (204.61 KB)
10 The Middle House Return to Cold Creek Hollow.epub (340.94 KB)
11 Renovation.epub (389.04 KB)
12 Mind Fray.epub (333.67 KB)
13 The Siege.epub (293.91 KB)
14 NOLA.epub (338.8 KB)
15 Never Forget – Alexie Aaron.epub (313.12 KB)
16 The Old House – Alexie Aaron.epub (388.88 KB)
17 Restitution – Aaron, Alexie.epub (331.75 KB)
18 A Rose by Any Other Name – Alexie Aaron.epub (372.56 KB)
19 – The Long Game – Alexie Aaron – [Haunted (PEEPs) 19] – The Long Game (epub).epub (580.14 KB)
20 – Given Enough Rope Alexie Aaron – (epub).epub (522.4 KB)
21 The Return (Haunted Series Book – Alexie Aaron.epub (555.46 KB)
22 – Risen – Alexie Aaron.epub (531.27 KB)
23 – The Candle – Alexie Aaron.epub (469.96 KB)
24 Book of Souls – Alexie Aaron.epub (573.12 KB)
25 – A Daughter of Nyx – Alexie Aaron.epub (464.28 KB)
26 – Sideshow – Alexie Aaron.epub (618.89 KB)
27 – Crossroads – Alexie Aaron.epub (1.84 MB)
28 – Sticks and Stones – Alexie Aaron.epub (711.69 KB)
29 – Lost Child.epub (627.87 KB)
30 – Myth and Malice.epub (733.04 KB)
31 – Smoke and Mirrors.epub (750.64 KB)
About The Author